Exhibitions | TAKEO PAPER SHOW 2007 -
FINE PAPERS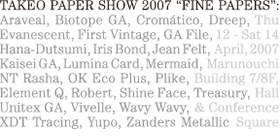 PAPERS - CREATORS - SHOPS
Top international and Japanese creators used a total of 26 TAKEO fine papers (A-Z) in their designs to create items that took advantage of the individual characteristics and functionality of the paper.
A limited edition of items was produced in collaboration with shops and cafes near the venue in the Marunouchi Building and its vicinity, where the items were distributed during the paper show period.
* Business and venue names are those used at the time of the event.
Participating creators
- Shops

A Araveal - Sophie Toporkoff - alain mikli shop marunouchi
B Biotope GA - Storm Thorgerson - BEAMS HOUSE
C Cromático - Erwin Wurm - Marunouchi kate spade NEW YORK
D Dreep F - Christian Marclay - BOSE SELECT SHOP MATSUYA GINZA
E Evanescent Gloss - Chema Madoz - DEAN & DELUCA
F First Vintage - Miran Fukuda - grappe BANNISTER Marunouchi Bldg. Shop
G GA File - Naomi Hirabayashi - Le Dome ÉDIFICE et IÉNA (ÉDIFICE)
H Hana-Zutsumi - Ichio Otska - Francfrancfranc Marunouchi
I Iris Bond - M/M paris - ITO-YA Marunouchi Shop
J Jean Felt - Taiji Matsue - ESTINATION Yurakucho
K Kaisei GA - Kuntzel & Deygas - Le Dome ÉDIFICE et IÉNA (IÉNA)
L Lumina Card - Takashi Homma - 4°C Marunouchi Shop
M Mermaid - Keiji Ito - H.P. FRANCE BIJOUX Marunouchi Shop
N NT Rasha - Paul Davis - Aoyama Book Center Marunouchi
O OK Eco Plus - Takashi Yasumura - MINIPLA Marunouchi Bldg. Shop
P Plike - Masamichi Katayama - THE CONRAN SHOP MARUNOUCHI
Q Element Q - Christopher Griffith - DES PRÉS MARUNOUCHI
R Robert - Raymond Savignac - MARKS&WEB Marunouchi Bldg. Shop
S Shine Face - Alexander Gelman - TOMORROWLAND MARUNOUCHI
T Take Bulky GA - Kiyomi Nakagawa - PINCEAU Marunouchi Shop
U Unitex GA - good design company - TAPPET BASSETT WALKER / Marunouchi Sarto Tecnico BASSETT WALKER
V Vivelle P- Masayoshi Kodaira - Soup Stock Tokyo Marunouchi Bldg. Shop
W White Peach Kent - Naoki Honjo - Aternoon Tea TEAROOM MARUNOUCHI
X XDT Tracing - Tord Boontje - KURACHICA YOSHIDA MARUNOUCHI
Y Yupo - Yayoi Kusama - Marunouchi LOFT
Z Zanders Metallic - Hiro Sugiyama - MIHONCHO HONTEN
Dates

April 12th, 2007 (Thu.)–14th (Sat.)
Venue

Marunouchi Building Hall & Conference Square
Marunouchi Building 7F, 2-4-1 Marunouchi, Chiyoda-ku, Tokyo 100-8307, Japan
Organizer

TAKEO Co., Ltd.
Producer

Shigeru Takeo
Direction, design

Masayoshi Kodaira + Naomi Hirabayashi + Manabu Mizuno
Exhibition installation

Yukiharu Takematsu
Editing

Masanobu Sugasuke
Symposium

Symposium 1 : April 13th, 2007 (Fri.)
Masayoshi Kodaira + Naomi Hirabayashi + Manabu Mizuno/Venue: Marunouchi Building 8F Conference Square Room 4

Symposium 2 : April 14th, 2007 (Sat.)
Shigeo Goto + Tetsuo Matsuda/Venue: Marunouchi Building 8F Conference Square Room 4

Symposium 3 : April 14th, 2007 (Sat.)
Alexander Gelman + Kuntzel & Deygas + Masanobu Sugasuke/Venue: Marunouchi Building 8F
Conference Square Room 4
Additional Venue : Osaka

Dates: May 14th, 2007 (Wed.)–15th (Thu.)
Venue: MyDome Osaka 3rd Floor Hall E 2-5 Hommachi-bashi, Chuo-ku, Osaka 540-0029 Japan
Book

PAPER SHOW (book details)