Exhibitions | TAKEO PAPER SHOW 2005 -
COLOR IN LIVE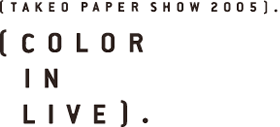 The variety of information conveyed by color, and the flat gaze of the viewer,
"Paper" and "design" exist in the same actual space as all other iterms.
The only common factor running through this exhibition was that of "color."
In COLOR IN LIVE, ten teams of creators each created a product inspired by a single color.
For COLOR+S, a creative team and printing technology team played tag, using colored fine papers and incorporated printing gimmicks into the designs in an attempt to produce innovative expressions.
The products that resulted from this struggle between sensibility and technology were exhibited here.
* Business and venue names are those used at the time of the event.
Dates

April 14th, 2005 (Thu.)–16th (Sat.)
Venue

Spiral Garden & Hall 5-6-23 Minami Aoyama, Minato-ku, Tokyo 107-0062
Organizer

TAKEO Co., Ltd.
COLOR IN LIVE
Direction

Kei Matsushita
Participating creators

Atelier Bow-Wow (Yoshiharu Tsukamoto, Momoyo Kaijima)
Sazaby Sales & Marketing Support: Advertising Team (Hatsuko Kobayashi, Toshiyuki Masuda, Tadashi Kitagawa, Chihoko Tamura,
Maiko Kuroki, Mikako Aoki)
Suntory Design Department (Yoshio Kato, Takashi Fujita, Shizuko Ushijima, Tadashi Asakura, Yoji Minakuchi)
GK Industrial Design (Shigenori Asakura, Kosuke Wakao, Tomohiro Sakatsubo)
Shiseido Advertising Department (Toshio Yamagata, Katsuhiko Shibuya, Yoji Nobuto, Ayumu Takahashi, Katsura Marubashi, Hisashi Narita)
Sony Creative Center (Yasufumi Yamaji, Shusuke Eshita)
D-BROS (Satoru Miyata, Yoshie Watanabe, Ryosuke Uehara, Daishi Miyata)
Dentsu Design Tank (Shotaro Sakaguchi, Emiko Oishi, Yoichi Komatsu, Yuji Tokuda)
HAKUHODO DESIGN (Kazufumi Nagai, Kenjiro Sano)
minä perhonen (Akira Minagawa)
COLOR+S
Participating creators

Kaoru Kasai (art director)
Issay Kitagawa (graphic designer)
Gwenael Nicolas (designer)
Masayoshi Kodaira (art director, graphic designer)
Shin Sobue (art director, graphic designer)
Hiroaki Nagai (art director)
Rika Noguchi (photographer)
Kei Matsushita (art director, graphic designer)