Exhibitions | TAKEO PAPER SHOW 2001 - Shiroi Kami(White Paper)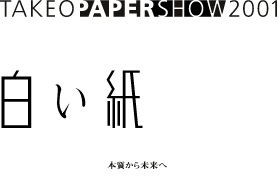 This is where everything begins.
White is the starting point for paper, and it is also the starting point for imagination, as a blank sheet of paper inspires limitless creativity.
On Floor 1, 6 creators active in different genres attempted to convey the attraction, interest, and wonder of paper from one of two points of departure:
Light and penetration from the essence (nature, properties) of paper
Variations of White
In the Hall on Floor 3, under 8 themes, up-and-coming creators exhibit new paper products that utilize the essence (nature, properties) of paper and exude a sense of the future.
* Business and venue names are those used at the time of the event.
Dates

April 19th, 2001 (Thu.)-22nd (Sun.)
Venue

Spiral Garden & Hall 5-6-23 Minami Aoyama, Minato-ku, Tokyo 107-0062
Organizer

TAKEO Co., Ltd.
Direction

Mitsuo Katsui (art director)
Tokujin Yoshioka (1F, 3F space design)
Shinzo Higurashi (copywriter)
1F Exhibits Participating creators

Jun Aoki (architect) /Shinichiro Arakawa (fashion designer) /
Reiko Sudo (textile designer) /Kodue Hibino (costume artist) /
Naoto Fukasawa (product designer) /Tokujin Yoshioka (architect/interior designer)
3F Exhibits Participating creators

Koh Chihara (graphic designer)
Ryosuke Uehara (graphic designer), Kashiwa Sato (art director)
Gugi Akiyama (graphic designer), Tetsuya Tamano (graphic designer),
Shin Nishibori (product designer)
Hideki Nakajima (art director), Hiroshi Yonemura (art director)
Naomi Hirabayashi (graphic designer)
Satoru Kubo (graphic designer), Kazunari Hattori (art director)
Kazuya Kondo (graphic designer), Kei Matsushita (graphic designer)
Fumio Tachibana (artist), Masayoshi Kodaira (graphic designer)
Symposium

"Edo Paper" April 20th, 2001 (Fri.)
Eisuke Ishikawa/Venue: Spiral 6F room

"Seeking the Essence of Paper" April 20th, 2001 (Fri.)
Raysabro Oye/Venue: Spiral 6F room

"Design Criticism" April 21st, 2001 (Sat.)
Hiroshi Kashiwagi/Venue: CAY (Spiral B1F)

"Future Paper Products", "Paper's Jouney to the Future" April 22nd, 2001 (Sun.)
A number of the participating creators/Venue: CAY (Spiral B1F)
Additional Venue : Osaka

Dates: May 22nd, 2001 (Tue.)–24th (Thu.)
Venue: MyDome Osaka 3rd Floor Hall F 2-5 Hommachi-bashi, Chuo-ku, Osaka 540-0029 Japan