Exhibitions | TAKEO PAPER SHOW 2000 - RE DESIGN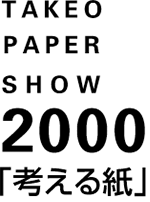 Commemorating TAKEO's 100th anniversary and preparing for the 21st century with a vision of paper in the near future
Paper has been nurtured by interaction between mankind and nature, leaving behind a trail as humans and culture advanced together.
In addition to verifying that trail, we made positive proposals for new relationships between technology, design, and paper in the context of evolution in human senses and knowledge as we moved towards a new century that seemed likely to be led by technology.
* Business and venue names are those used at the time of the event.
Dates

April 19th, 2000 (Wed.)–22nd (Sat.)
Venue

Spiral Garden & Hall 5-6-23 Minami Aoyama, Minato-ku, Tokyo 107-0062
Organizer

TAKEO Co., Ltd.
Direction

Kenya Hara + Nippon Design Center Hara Design Institute
RE DESIGN
The creative everday life of the near future produced by activated modern minds, made possible by paper and design.
Through paper and design, this exhibition was able to give a realistic-feeling vision of daily life and creativity of the near future.
A total of 32 participants at the forefront of their respective creative fields - including graphic design, architecture, product design, fashion design, lighting design, photography, writing - participated, each producing and exhibiting re-designs of different daily.
Participating creators

Shigeru Ban (architect)
Masahiko Sato (creative director)
Kengo Kuma (architect)
Kaoru Mende (lighting designer)
Taku Satoh (graphic designer)
Ikko Tanaka (graphic designer)
Hiroki Taniguchi (graphic designer)
Tamotsu Fujii (photograher)
Takuya Onuki (art director)
Genpei Akasegawa (writer/artist)
Katsumi Asaba (art director)
Kosuke Tsumura (fashion designer)
Gento Matsumoto (graphic designer)
Shin Sobue (editorial designer)
ALAN CHAN (graphic designer)
Dorian T. Sukegawa (poet/musician)
Kazumasa Nagai (graphic designer)
Tadanori Yokoo (artist)
Munenori Harada (writer)
Hitoshi Suzuki (graphic designer)
Shigeru Uchida (interior designer)
Keiko Hirano (design director)
Makoto Orisaki ("inter design artist")
Takaaki Bando (graphic designer)
Tokujin Yoshioka (interior designer)
Kiyoshi Takeyama (architect)
Terunobu Fujimori (architectural historian)
Naoto Fukasawa (product designer)
Tadasu Ohe (architect)
Kyoichi Tsuzuki (photograher)
Masayoshi Nakajo (graphic designer)
Issay Kitagawa (art director)
Paper and Design: 50 Years of Takeo "Fine Papers"
Trail left by the development of paper and design
The history of fine papers overlaps with the history of graphic design.
This exhibition selected 50brands of fine paper, and presented products and essays that carry the thoughts of 50 individuals concerning each of these papers.
Paper and digital printers
As the next step in Takeo's use of paper to support technology, we proposed ways of working with digital printers.
Direction: Makoto Orisaki